Shopping Cart
Your Cart is Empty
There was an error with PayPal
Click here to try again
Thank you for your business!
You should be receiving an order confirmation from Paypal shortly.
Exit Shopping Cart
Perfect flowers for any occasion.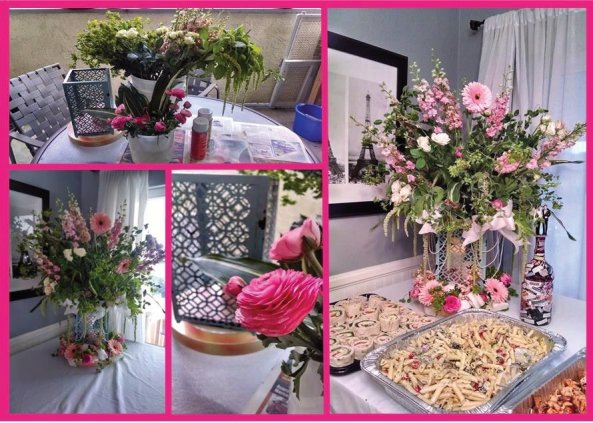 This past weekend I had the pleasure of celebrating Jae and Mark's wedding at their house in San Diego! I was asked to create just one WOW piece that would sit on the buffet table. Sometimes this is the best way to get the most out of the money you spend on flower arrangements. Instead of spending $150 on a few small arrangements that may get lost in the excitement of the day, invest in one big show piece that stops people in their tracks and is sure to be memorable. 
I also took this opportunity to create a unique vase/base for this arrangement. One thing I have learned is that after awhile a vase is a vase. It no longer adds to the arrangement, but simply holds the flowers. At that point you need to get creative. Start stacking and messing with different shapes to create a more engaging container. In the arrangement above I nested two lomey dishes, one larger upright  and the other upside down to create an elevated base for a lantern. I then used Oasis to create a ring around the bottom that I could fill with flowers. I placed the lantern in the middle and put two flame-less candles in it to create dimension and add to the romance. On top of the lantern I secured another large lomey dish filled with Oasis for the larger arrangement on top. I finished this classic vintage piece with ribbon and peal  accents. 
Thanks Jae and Mark for letting be a part of your special day!
This past weekend I had the chance to do the flowers for Amy and Jeremy's vineyard wedding in Temecula, CA. Although it was raining the site was beautiful and I hope they had an amazing day. The colors for the wedding were a deep purple and cranberry. Because the bridesmaids dresses were black, I choose to make the bouquets lighter in color with purple and cranberry beaded wire accents. Since they were getting married at a vineyard, I thought this was a fun way to tie in the idea of grapes without over stating it. I made my first cascading bouquet for Amy. I was nervous, but loved the way it turned out. It was surprisingly lite weight. I hope to get a few better pictures from their photographer in the next few weeks, but for now, here are a few production shots.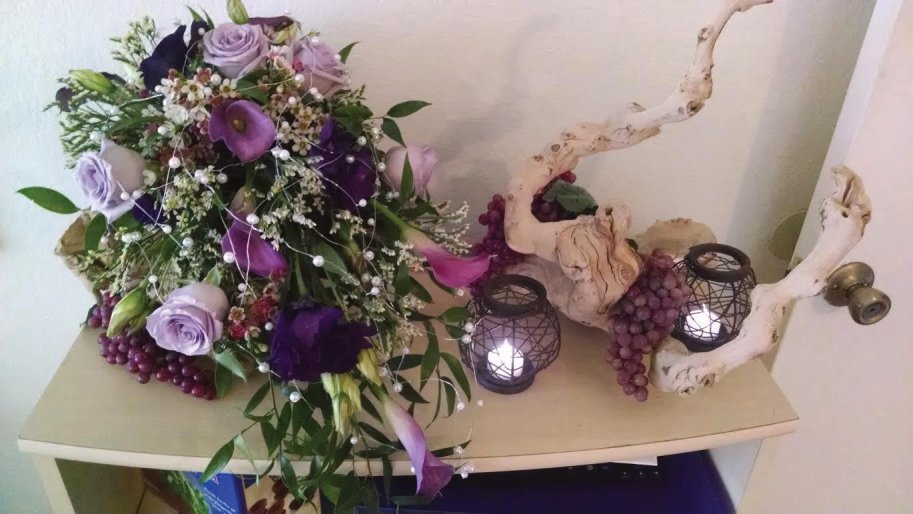 Set up for the sweetheart table, but at my house not the venue.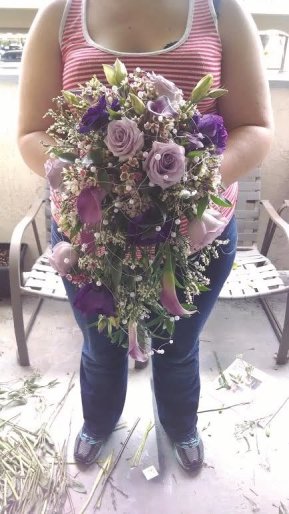 Brides Cascading Bouquet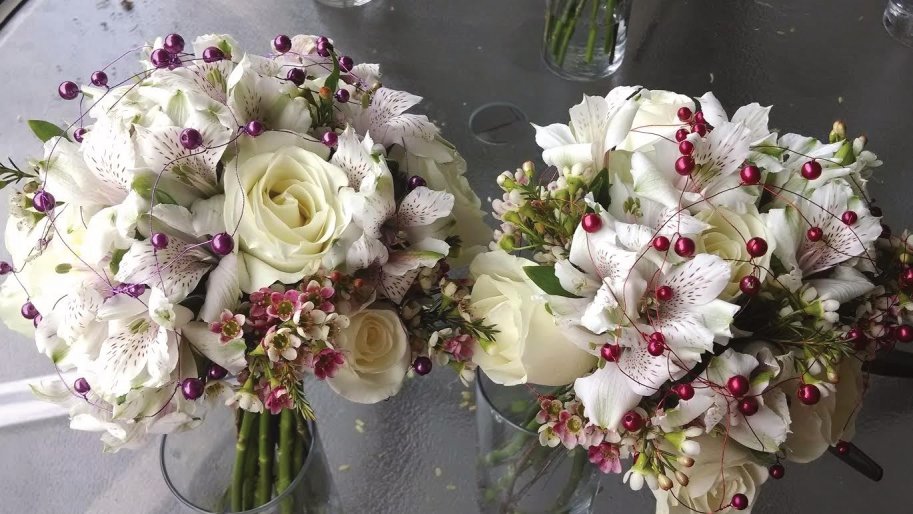 Bridesmaid and Jr. Bridesmaid Bouquets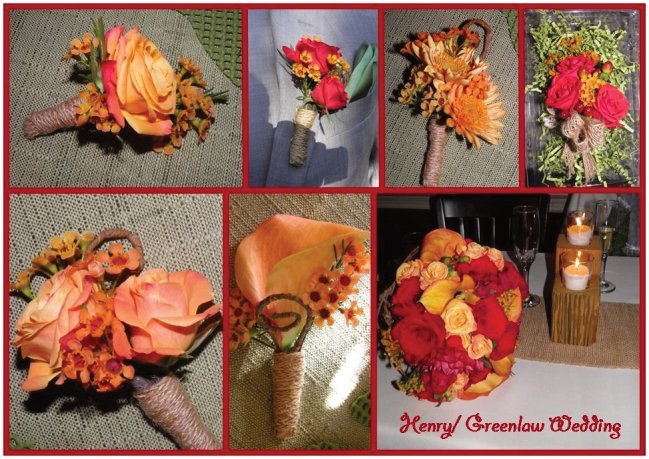 Here it is! Beautiful fall wedding in Julian, Ca.. More photos posted in my "
Autumn Romance
" section of my photo gallery.
So, I'm brainstorming for an October wedding in Julian! So excited to be a part of Jessica and Jordan's day. It will take place outdoors in a clearing surrounded by trees. So romantic. The color pallet will consist of grey greens, burnt oranges, and rustic reds. The feeling that you just walked out into a field and gathered the flowers.
I am a visual person, so I love to Google the theme of the event and find images that inspire me to create beautiful arrangements. I also like to look at the
Sierra Flower Finder
website. So much useful info is posted here. So many options!
/