Shopping Cart
Your Cart is Empty
There was an error with PayPal
Click here to try again
Thank you for your business!
You should be receiving an order confirmation from Paypal shortly.
Exit Shopping Cart
Perfect flowers for any occasion.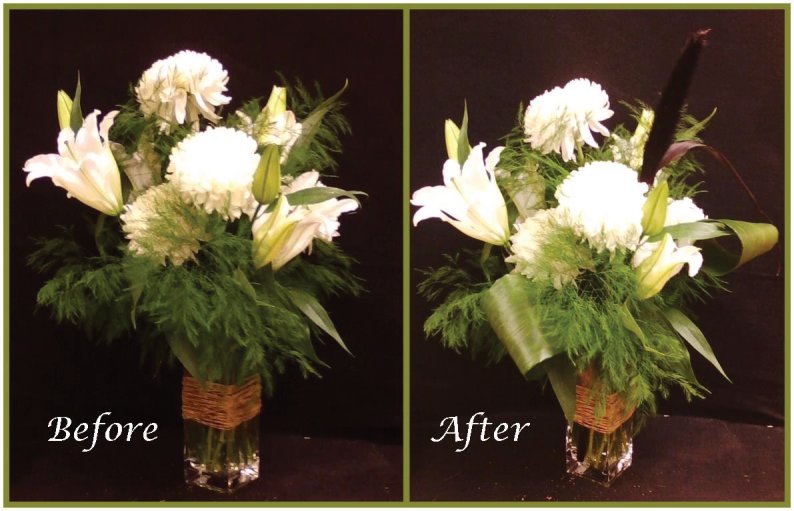 In flower class yesterday we had the opportunity to create our own design with the flowers that were in the cooler. I choose to put together a simple elegant design using the Fibonacci number sequence. Fibonacci created a series of numbers in which each subsequent number is the sum of the previous two (example: 1, 2, 3, 5, 8, 13...). These numbers and ratios continually appear in nature and help our eye determine if something is beautiful or not. In floral design, we use this sequence to help balance our arrangements and increase the perception of beauty. In the arrangement above I originally used 3 stems of  white lilies, 5 stems of china mums, and a some fern as filler. In looking at it I thought it lacked dimension and did not have anything unique. I stuck with the Fibonacci number sequence and added two rolled aspidistras leaves and 1 black millet. I think it gave the arrangement more balance and made it more interesting to the eye.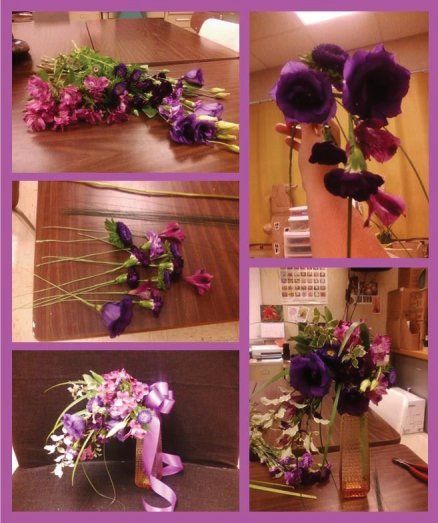 This post is a little late, but 2 weeks ago we learned about wired bouquets in my floral class. We took a group of lush purple flowers and preceded to wire each bloom as if we were making a boutonniere. In the second picture down it may look like those flowers have stems, but in reality it is just a bloom pierced with wire and wrapped in green floral tape. Once all the blooms have been wired you can start building your bouquet. The wire adds the ability to position the bloom exactly where you want it to be and helps cut out a ton of the weight because you do not have any stems. You want to use florals that hold up without water since they will not have a direct water source. Be sure to spray the bouquet with Crowning Glory, a mist that prevents the flowers from losing the water that they currently have.  The photos above are at different stages in the process. The vase was not part of the design, but I needed something to hold the bouquet upright.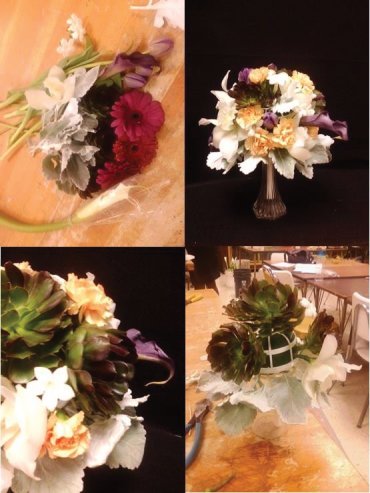 This week in flower class we learned what flowers can hold up overtime and without a water source. We focused on learning wiring techniques to help lengthen the stems of flowers that would otherwise be too short or too delicate to place in a bouquet holder. To me, the overall bouquet came out okay, but class was more about technique and getting the flowers to stay put, which is why there is such a large variety of material being used.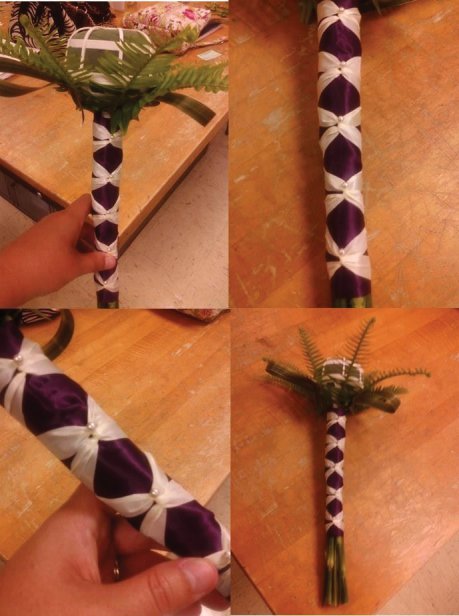 Last night in Weddings class we practiced wrapping the handles of bouquets. This trick allows you to use a bouquet holder while making is appear that you have real stems. Pretty nifty! I then covered the under side of the holder with sword fern and finished it with purple ribbon, white ribbon, and corsage pins. We were sent home with a long list of different wraps to try out before the next class.
Back in flower class and it feels so good!!!! Last night was bouquet class! Betty, my flower teacher, said that it was a little too tight and bunched together. People can not appreciate each individual bloom. She also suggested that I could have worked some of the sword fern into the middle to help tie everything together. This is what I love about class! Honest and caring feedback that will help me improve:) love the color pallet and the overall feel of the bouquet.

/